About Art-E-Books.
Art E-books have been developed over the last few years, with the emphasis being that they are easy to use, they are step-by-step with images and where video is an important instructional part of the book.
We read and understand books but seeing art techniques executed - in person, on Video or DVD - is an enormous aid to the learning process. You can learn a lot by watching someone, that cannot be obtained from the written word
The Art-E-Books with their text, images and video content are an interactive book and video combined - offering both the written word and the visual reference.
To me Art-E-Books give the best of both worlds for anyone looking for tuition. Also they are easy to use, always available in your own home and can be downloaded very quickly.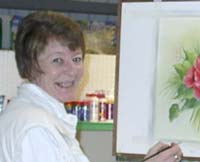 I hold Teaching and Instructor Certificates and over the last eighteen years I have travelled the country teaching Oil painting by way of workshops, on a group or one-to-one basis. Business and personal commitments have meant that I now travel much less. I enjoy teaching and Art-E-Books allow me to offer tuition to a wide audience, at less expense to everyone including the environment.
Jacqui
2006

****Please Note:- Most of this Art-E-Book site has move to its own website at www.art-ebooks.co.uk
All Art E-books are Copyrightę Jacqui Blackman